the music you hear:
Mr. Bojangles.
The Byrds
is one of the most influential albums
in American Popular Music History
the Byrds fast became a quintessential
American music experience.

Thirty years after his untimely death,
BBC Four presented this, the
first-ever documentary film
about the musical legend
Gram Parsons.

The Gram Parsons project is
based on a simple idea:
to convey a rounded, in-depth
portrait of this massively influential
musican by tapping into the
recollections of those who
knew and worked with him.
An incredible find.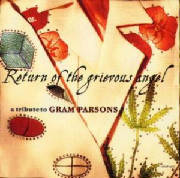 Almo Sounds CD AMSD-80024 1999